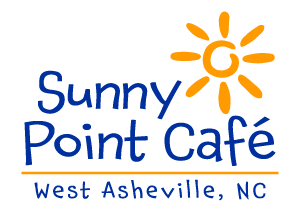 Sunny Point Café is a family owned, independent restaurant serving upscale comfort food from dawn to dark. Whether you want breakfast for dinner or a scrumptious dessert for breakfast we would love to satisfy your craving. We take pride in our made-from-scratch products and farm-to-table approach with our menu selections.
We like fresh ingredients so much we have our own Sunny Point Garden adjacent to the restaurant. During peak growing season, staff works daily in the garden harvesting ingredients for our specials – hard to get much fresher! Feel free to walk through our garden before or after your meal.
We also serve a selection of craft beers on tap, wines, and specialty cocktails along with brunch favorites, our famous Sunny Point Mega-Mosa and award-winning Spicy Bloody Mary.
Our café is small, but we do have a covered outdoor dining area so you can dine al fresco most seasons. Well behaved dogs are welcome.
We are busiest weekend mornings, but have provided plenty of shaded seating so you can relax while waiting for your table. Please note that during these peak times we are unable to seat incomplete parties.
Please join us for breakfast, lunch or dinner. We look forward to serving you.
---
Location
Sunny Point Café, 626 Haywood Road, West Asheville, NC
Hours
Sunday & Monday 8:30am-2:00pm, Tuesday-Saturday 8:30am-9:00pm
Dinner service starts at 4pm, Tuesday-Saturday.
See Website for Menu
sunnypointcafe.com
Restaurant Phone: 828.252.0055
Restaurant Questions, Email: sunnypointcafe@gmail.com
Questions About Your Product Order or Marketing, Email: marketing.sunnypointcafe@gmail.com